Our mission statement is not just words on a page, but is lived by our employees. See for yourself.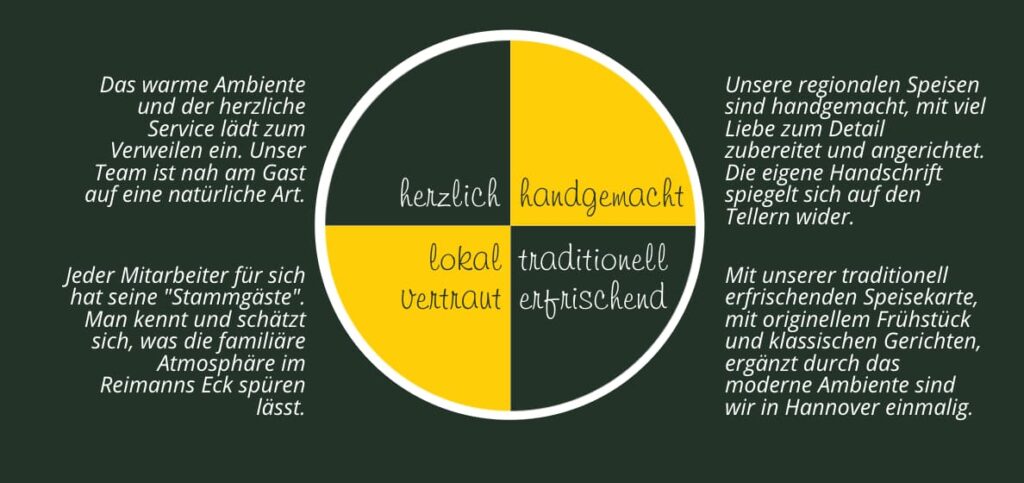 Ekkehard Reimann takes over the "Härke Eck" and renames it "Reimanns Eck".
The adjacent cult discotheque "Casa Blanca" is taken over by Ekkehard Reimann and is from now on part of Reimanns Eck
Takeover by the company Gastro Trends Hannover GmbH
The outdoor area is being modernised & for the 10th anniversary, the "Journey through Reimann's Eck" & breakfast was offered for the first time (which has been an integral part of the menu ever since).
The outdoor area is being expanded. It now offers space for a total of 120 guests
A restaurant lives on its food on the one hand and on a harmonious team on the other. That's why we place a special focus on our staff, because they are the heart of our restaurant.
We always treat each other in a familiar and respectful manner, regardless of age or origin. Service and cuisine are optimally coordinated, which is the only way we can guarantee a smooth operation. You will feel it when you visit us. 
Indoor and outdoor area at Reimanns Eck
Indoor
Our indoor area with its approx. 100 seats invites you to linger in the rustic ambience all year round. Let yourself be inspired by our first-class service and enjoy, for example, an exquisite wine paired with tasty classics of traditional German cuisine. Because at Reimanns Eck, we have been cooking at the highest level for years. Did you already know? We plan your individual event together with you. It doesn't matter whether it's a christening, confirmation, birthday, company or Christmas party. The choice of an individual menu is possible on request. We will be happy to advise you.
Outdoor
When the temperature is pleasant, you want to sit out in the fresh air and enjoy a cool drink. In order to be able to satisfy this wish of a larger number of guests, we have lovingly extended our outdoor terrace by a few seats in 2021, so that we can currently offer approx. 120 seats. Enjoy our North German specialities under the open sky.
You will find Reimanns Eck on Weißekreuzplatz at the beginning of the Lister Meile. Due to the short distance to the main station and the Sedanstraße stop, it has an ideal connection (line 3-7-9), even without a car. You will still find parking spaces in the surrounding streets.